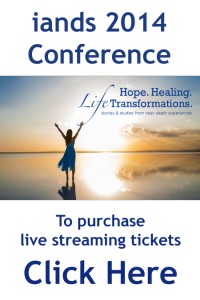 If you aren't able to attend the IANDS 2014 Conference, you can Live Stream the talks directly to your computer. And if you miss a talk, you can view it later -- Video On Demand -- until the end of the year!
See the full Live Streaming schedule -- featuring all of the main conference talks, at very reasonable prices. (Click on the links for each talk to get a description; the Live Stream times are PDT.)
The two talks on Thursday, August 28 are FREE, including the Special Presentation by P.M.H. Atwater, so you can see if you like the live streaming experience, at no risk.
You can buy a Live Stream Ticket for the full conference, a full day or specific Keynote Presentations. Simply set up a login to Streaming for the Soul, select "Purchase Tickets", make your selection(s) and use PayPal or credit card. Further questions, see the Live Streaming FAQ.