Publications
IANDS has two main publications
Vital Signs (VS)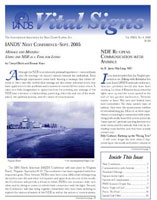 Vital Signs, a quarterly magazine offered as a benefit to our members, contains NDE accounts, commentary and perspectives on near-death experiences, association news, and articles of general interest.
Sample articles from previous issues can be viewed below. These articles offer good examples of the type of content featured in Vital Signs.
Back issues are available from the IANDS Store.
PDFs of two past issues are available here (199 Kb) and here (1.05 Mb).
Journal of Near-Death Studies (JNDS)
Journal of Near-Death Studies
This is the only peer-reviewed scholarly journal (ISSN 0891-4494) devoted exclusively to the field of near-death studies. It is cross-disciplinary and published quarterly. For more information, click here.
To subscribe:
The Journal of Near-Death Studies (JNDS) was originally named Anabiosis. The numbering was preserved when JNDS took its new name, so its first issue is in volume 6. Almost all the JNDS issues are in-print and can be ordered from the IANDS Store. Click on the links below to scroll through the Table of Contents for each volume to select which editions you want to purchase.
Table of Contents:
Click on each volume to view the table of contents and to order back issues.