Publications
IANDS has two main publications
Vital Signs (VS)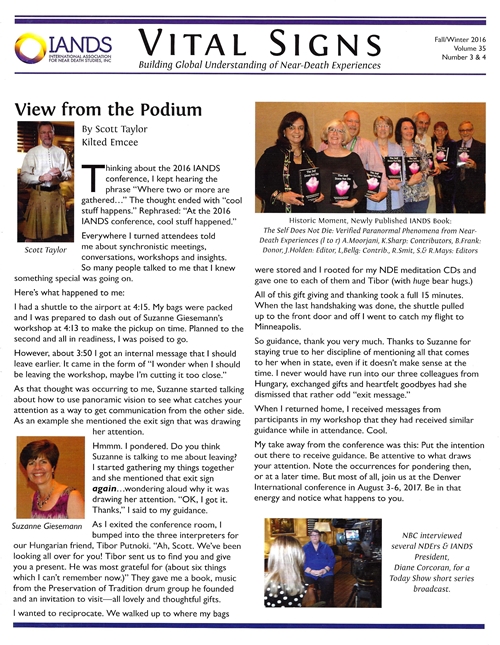 Vital Signs, a quarterly magazine offered as a benefit to our members, contains NDE accounts, commentary and perspectives on near-death experiences, association news, and articles of general interest.
Sample articles from previous issues can be viewed below. These articles offer good examples of the type of content featured in Vital Signs.
Back issues are available from the IANDS Store.
Journal of Near-Death Studies (JNDS)
Journal of Near-Death Studies
The Journal of Near-Death Studies (JNDS) is the only peer-reviewed scholarly journal (ISSN 0891-4494) dedicated exclusively to the field of near-death studies. It is cross-disciplinary.
From its inception in 1981 through 2018, JNDS was published quarterly, with each volume containing a Fall and Winter issue in one calendar year and a Spring and Summer issue in the following calendar year.
Beginning in 2019, JNDS has been published three times per year: Each volume number corresponds to a calendar year and contains a Spring, Summer, and Fall issue.
For more information, click here.
Instructions to authors for articles.
Instructions to authors for media reviews.
To subscribe: Join IANDS as a Professional member and also receive all of the other benefits of IANDS membership.
All JNDS issues are in-print and available as PDFs:
Articles more than three years old can be downloaded at no charge from the Internet; click on the volume below, then on the doi associated with the article.
Articles three or fewer years old can be ordered from the IANDS Store.
Table of Contents:
Click on each volume to view the table of contents.
Book Publications
IANDS Book Publication Policy
IANDS resources for book publications are limited. If we have time and a proposed book meets these criteria we will consider publishing it. The criteria are that the book must be:
In the health/education/research/science (HERS) category,
A unique and valuable contribution of current interest to the field of near-death studies,
Attempted to be published but not able to be published by an established publisher,
In English or translated into English, and
Approved by the IANDS Board for funding and royalty arrangements.