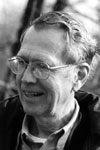 Emeritus Professor of Psychiatry
Carver College of Medicine
University of Iowa
Dr. Noyes was an explorer of the new world of near-death studies, having published before 1975 four articles about experiences that, in 1975, came to be known as NDEs. Still involved in the field, Dr. Noyes co-presented with Peter Fenwick, MD, "Pleasurable Western Adult NDEs: Aftereffects" during the 2006 IANDS Conference.
After completing residency training in psychiatry at the Institute of Living in Hartford, Connecticut, and the University of Iowa, Dr. Noyes spent two years in the United States Navy, then joined the faculty of the Department of Psychiatry at the University of Iowa. His research interests early in his career included near-death experiences and, later, panic and other anxiety disorders as well as hypochondriasis. He has published nearly 300 articles and, for many years, served on the Psychiatric Consultation Service at the University of Iowa Hospitals and Clinics. He achieved the rank of Professor before retiring in 2002.
At the 2006 conference in Houston, IANDS honored Dr. Noyes' early work on "NDEs" by presenting him with the Bruce Greyson Research Award. The fourth recipient of this award, Dr. Noyes joins esteemed recipients Dr. Greyson himself, Dr. Peter Fenwick, and Dr. Pim van Lommel.