NDE Training Video Now on Sale!
Details

Last Updated: Thursday, 28 September 2017 20:07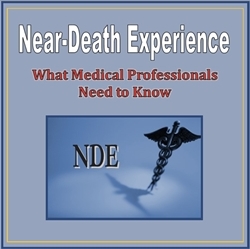 For doctors and nurses: How do you recognize a patient's near-death experience? How do you respond to it? This new IANDS-sponsored NDE Medical Training Video provides answers. It is now available on the IANDS Shopping Cart!
This groundbreaking video features six medical professionals, addresses the needs of near-death experiencers, and provides professional and general audiences with knowledge of NDEs.

Training Video DVD only (30 min) ~ $29.95. The institutional NDE Training Package (includes the DVD and supporting training materials) ~ $199. Both items are now available on the IANDS Shopping Cart, discounts available to IANDS members. View the trailer now!