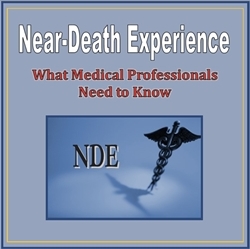 For doctors and nurses: How do you recognize a patient's near-death experience? How do you respond to it? This new IANDS-sponsored NDE Medical Training Video provides answers. It is now available on the IANDS Shopping Cart!
This groundbreaking video features six medical professionals, addresses the needs of near-death experiencers, and provides professional and general audiences with knowledge of NDEs.

Training Video DVD only (30 min) ~ $29.95. The institutional NDE Training Package (includes the DVD and supporting training materials) ~ $199. Both items are now available on the IANDS Shopping Cart, discounts available to IANDS members. View the trailer now!
The purpose of the NDE Training Video is not only to educate medical professionals about what an NDE is, but also to help them see that NDEs are fairly common and that they may need to set aside their own reactions and beliefs to assist their patients. Many mass media depictions of NDEs still feature them as mysterious, inexplicable psychic events. Others try to explain NDEs in physical terms, such as oxygen deprivation to the brain.
This training video shifts the emphasis to patient care, with NDEs presented as normal human experiences, which must be treated in the larger context of patient needs. Rather than focusing on the mystery of the near death experience, this training video focuses on NDEs' impact on patient healing.
In addition the video provides medical professionals with a response protocol for dealing with patients who have had NDEs. They will know what questions to ask and where to refer patients for more help.
This video was produced by Blue Marble Films with financial support from IANDS and over 95 donors to this project. The video features IANDS President Diane Corcoran, R.N., Ph.D., critical care physician Dr. Laurin Bellg, psychiatrist and NDE researcher Dr. Bruce Greyson, NDE researcher Janice Holden, Ed.D., neurosurgeon and NDEr Dr. Eben Alexander, psychiatrist and NDE researcher Dr. Mitch Liester, and orthopedic surgeon and NDEr Dr. Anthony Cicoria.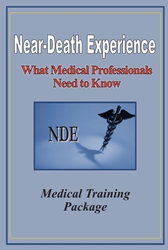 The NDE Medical Training Video comes in two forms:
The 30-minute video DVD for near-death experiencers and general audiences ($39.95)
The Training Package for hospitals, hospice, medical schools and nursing programs ($199)


Includes the DVD plus:
PowerPoint Presentation
Discussion Questions
Role Play
Reading Lists
Brochures for Caregivers and Experiencers
And Other Training Materials.
An Onsite Training Workshop is also available including video screening, slide presentation, and focused discussion with role play. For more information contact: Roberta Moore, Blue Marble Films LLC, This email address is being protected from spambots. You need JavaScript enabled to view it..