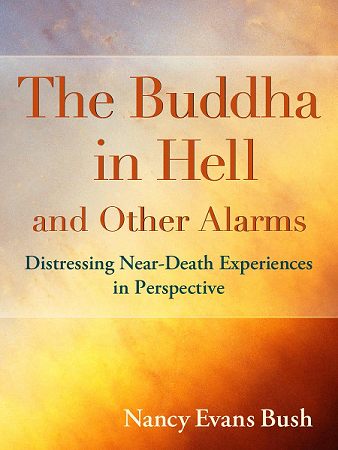 Announcing The Buddha in Hell and Other Alarms
Just in time to curl up with a good thought-piece for winter reading, here is The Buddha in Hell and Other Alarms: Distressing Near-Death Experiences in Perspective, a second book from IANDS' own Nancy Evans Bush.
Whereas her first book, Dancing Past the Dark, was a descriptive study of distressing NDEs, here she blends questions raised by readers into her ongoing investigation and considers our cultural notions about fear in spiritual life. Despite the topic, it is not a gloomy book and throws considerable light on the source and purpose of the extreme conditions present in distressing NDEs.
Much of the book's material originated in the years since the publication of Dancing Past the Dark; new writing augments blog posts and conference presentations, which have been expanded and largely reworked for the more permanent format of this new book. The Buddha in Hell and Other Alarms is available as an ebook or in paperback and can be found on Amazon and virtually all other bookselling outlets.
---